Welcome
SS Osmund and Andrews is a thriving Catholic primary school within the Diocese of Salford. Our staff, through dedication and commitment, strive to give the best possible education to each child.
We have a reputation for being a happy and successful school and we are proud of our achievements, our friendly welcoming atmosphere and the strong partnerships with parents.
All our relationships are based on Christian values. Children are encouraged from the start of their education with us to develop positive attitudes to learning and to treat others with understanding and respect. They are encouraged to develop as lifelong learners through an enjoyable and challenging curriculum complemented with a variety of after school activities and experiences.
Although we constantly focus on enabling our children to reach their academic potential, this is within a loving and supportive environment where the development and achievement of every child is nurtured and celebrated.
Thank you for taking the time to visit our website, I hope that you find it useful and informative.
Mrs J. McDonald
Headteacher
Together in Love, Faith and Hope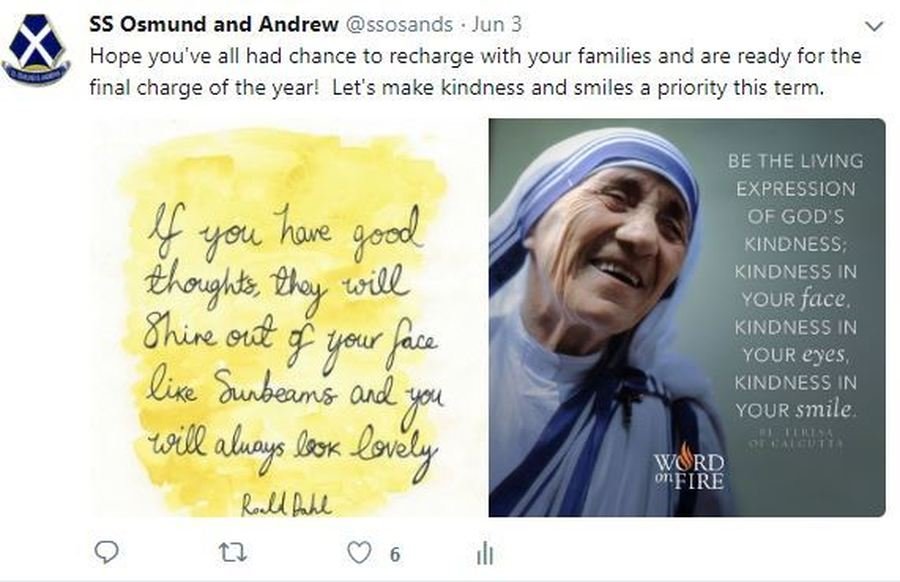 Twitter Feed

SS Osmund and Andrew @ssosands
16 Oct Class 3 have made sleighs in D&T linked to our topic work. We had lots of fun using the glue guns! #designtechnology https://t.co/DAY91d2ZdA
11 Oct Class 3 have been investigating which material would be best to fix Miss Edwards's broken umbrella! We have had lot… https://t.co/UmGdfV9Wz6
11 Oct A message from Mr Monckton about @premieractivate clubs. Please follow this link which will take you to our easy on… https://t.co/dlRheVsIvl
10 Oct It was our pleasure. Thank you for helping us to learn more about respect and tolerance. We have a lot in common. https://t.co/pWWkVqaDxK
10 Oct More spectacular space models made by some super talented members of class 7 #topichomework https://t.co/23dBUVK2v3
Latest School Calendar Events
There are currently no events.
Calendars page(s): School Calendar >>